Here at LunsPro we live by our motto: Live, Lead, Serve.
Live: Live a fulfilled life. Do what you love, love what you do.
Lead: Lead and inspire. Influence others by being a virtuous leader.
Serve: Serve a bigger purpose. Make an impact, leave a legacy.
We are committed to giving back to the community. For 2023, we have selected a charitable partner to support every month through volunteering, financial contribution, and raising awareness for their cause. We would love to partner alongside you, your coworkers, and family/friends to help each of these incredible organizations.
Our January charitable partner is the King Center. The King Center's mission is to "empower people to create a just, humane, equitable and peaceful world by applying Dr. King's nonviolent philosophy and methodology." Learn more about the King Center HERE.

We invite you to join us in support of the King Center and their King Day Community Service Project on Friday, January 13 from 12 PM - 2 PM. Care packages will be assembled for distribution in the community to help the unsheltered and homeless. You can sign up to volunteer alongside our team by clicking HERE.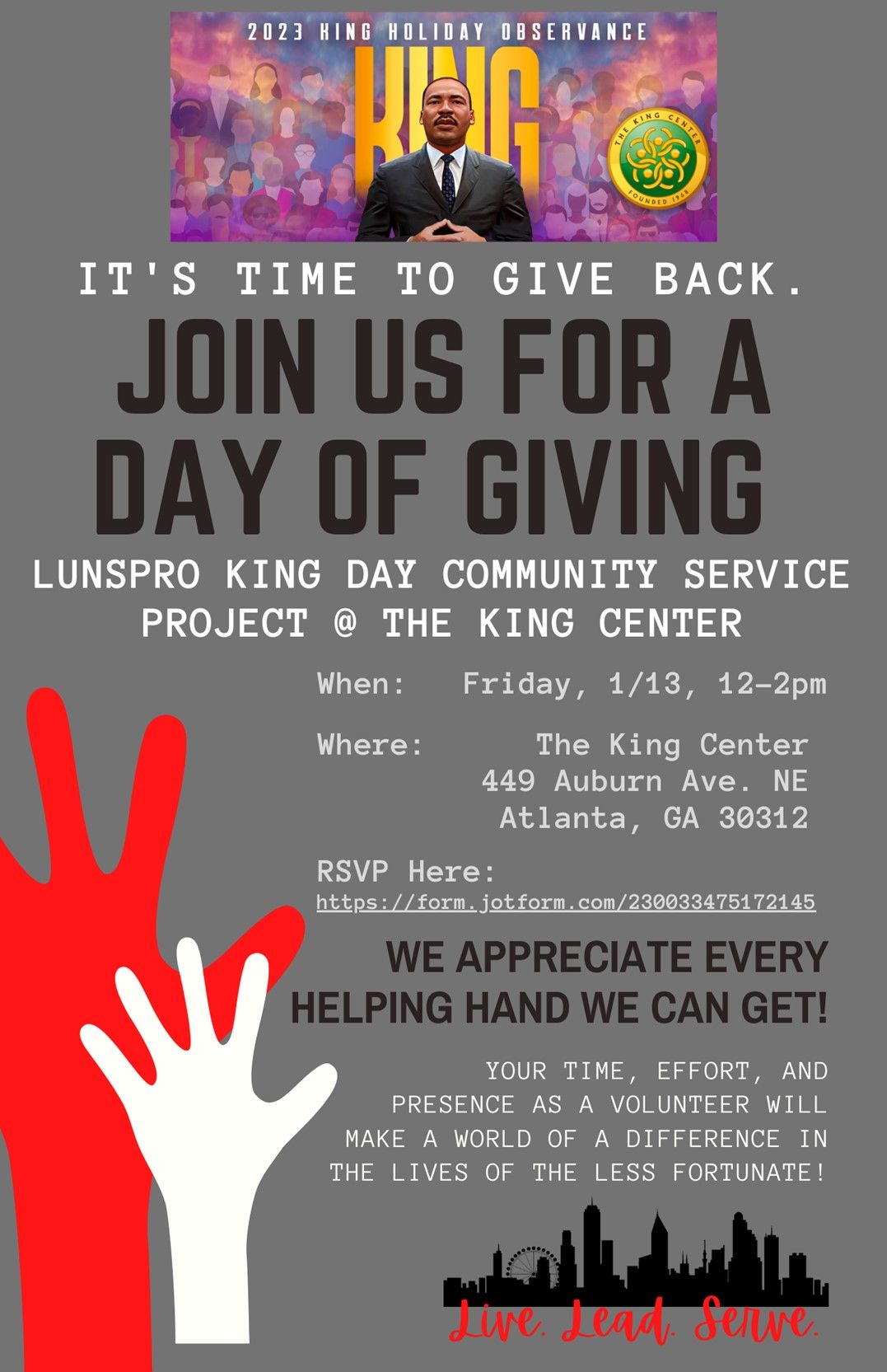 In past years, LunsPro has lived out that commitment to serve by volunteering and contributing financially to help make an impact in the community by supporting local charities. Our past charitable partners include:
Toys for Tots
North Fulton Community Charities
Operation Gratitude
Keller Williams Red Day
No Longer Bound
Mentor Me North Georgia
If you have a service project or charitable partner that LunsPro can support, email Marc Gibbons at marc.gibbons@lunspro.com to share your request.