Radon Testing in Metro-Atlanta
Trust the Experts at LunsPro!
Know Before You Buy
If you're in the process of buying a home, you should consider ordering a radon test. Radon generally seeps from the soil into the basement or crawlspace of your home through gaps in the foundation or poorly ventilated crawlspaces. If left unchecked, radon can reach dangerous levels and cause serious problems.
Schedule Radon Testing
A radon gas problem can be time-intensive as well as extremely costly. Make sure that you don't have a radon problem before purchasing a new home. This may save you a lot of money in the long run.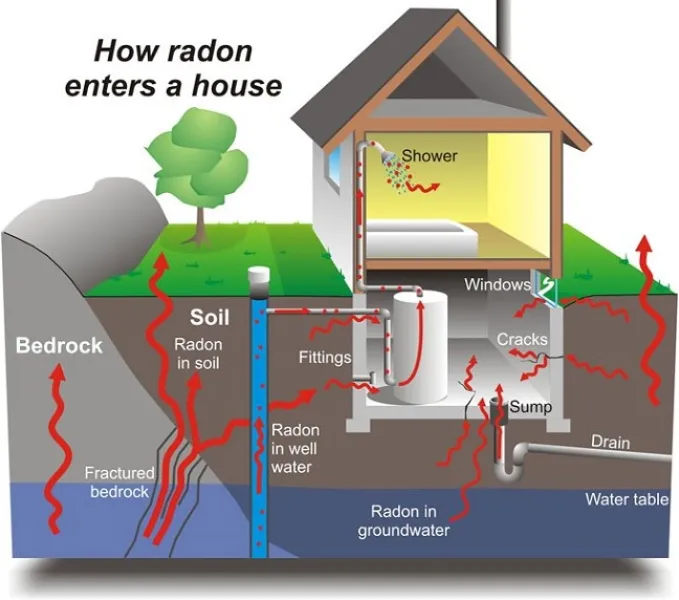 How is Testing Done?
Testing for radon requires at least two days. LunsPro Home Inspections offers a 48-hour test using the latest equipment on the market. Once the test has been completed and the results are in, you'll receive a detailed report outlining the property's radon levels. Using the EPA's recommended safety standards for this dangerous gas, this report can alert you as to whether or not the home is safe for occupancy.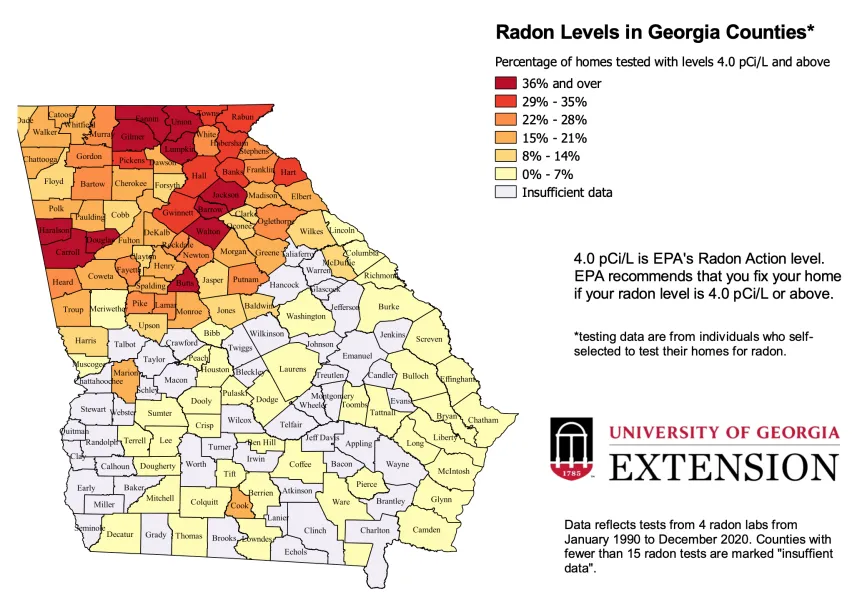 Radon Levels in Georgia
Radon levels in Georgia, in particular the northern half of the state, are well above the national average. In some counties 1 in 3 homes have radon levels above the action level as determined by the EPA. Testing is the only way to know if your home falls above the safe radon level.
Frequently Asked Questions
Q
What is the purpose of a radon test?
A
Having your home tested for radon can help protect you and your family from a key cause of lung cancer. Exposure to radon accounts for about 21,000 deaths from lung cancer each year according to the US Environmental Protection Agency (EPA)

Q
What does radon in a house cause? Should I worry about radon?
A
Radon is a radioactive gas emitted naturally from the ground. You cannot see, smell, or taste radon. But it still may be a problem in your home. However, when radon gets trapped indoors—after entering a home through joints in walls, basement floors, foundations and other openings—it may concentrate at dangerous levels. And exposure to high levels of radon can cause lung cancer. In fact, the Surgeon General of the United States has warned that radon is the second leading cause of lung cancer in the United States today.

Q
How do you fix a radon problem?
A
If your home has a radon problem, it can be fixed by installing a radon mitigation system in the home. The EPA recommends that you get a certified or licensed radon mitigation contractor to install the system.

Q
How accurate are your Radon tests compared to others?
A
We use some of the most accurate testing machines in the industry. Unlike some other companies, we also ensure that all our machines are calibrated annually by a third party to provide the most accurate readings. Radon levels go up and down all throughout the day. To make sure that we are giving the best Radon results, we get an average over a 48 hour time span.
Q
Is radon an issue in Georgia? Should I get it tested?
A
The map above shows the county breakdown of the percentage of homes testing at or above safe levels for radon. We strongly suggest to get your home tested for Radon. Nationally about 1 in 15 homes have an elevated level of radon (4 picocuries per liter or greater). In much of Georgia, homes are far more likely to have elevated levels of radon when compared to the national average. Some counties have up to 1 in 3 homes with elevated radon levels. Granite rock found in the soil beneath our homes elevates the risk for radon intrusion.